Mentoring
The Zoeza Institute provides mentoring services for at-risk youth through two primary programs: The Surrogate Mentoring and Responsible Transition (SMART®) program and the Building Exception Lifelong Leaders (BELL) program.
Surrogate Mentoring and Responsible Transition (SMART®)
Utilizing the innovative SMART® service model, youth participate in a long-term, high-touch program that prepares troubled youth while they are young, facilitates their transition into adulthood, and supports their ongoing quest to live responsible, independent lives. The intensive, longitudinal program utilizes the following flow of intervention activities:
SMART® Model
.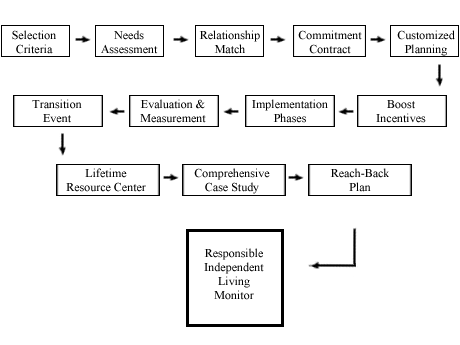 To review the SMART® program benefits, click here. To view a sample monthly program plan and activity detail, click here.
Building Exceptional Lifelong Leaders (BELL)
.
History
The BELL program was originally launched in 1991 as a mentoring partnership between Bell Atlantic and the Dunbar School in North Philadelphia. In 1998, the BELL program came under the organizational umbrella of CITE (Consortium of Information and Telecommunication Executives), a primarily African-American employee resource group. Since 1998, the BELL program has expanded to include additional schools in Philadelphia: John B. Kelly School, John Wister School, Robert Fulton School, Jenks School, and Henry Houston School. In 2001, the Dunbar School mentors were honored with the Philadelphia School District's William Penn Cluster Community Service Award commemorating 10 years of continuous service. The BELL program moved under the organizational umbrella of the Zoeza Institute in 2008.
Purpose
The purpose of the BELL program is to:
Develop a mentoring relationship between career professionals and students in participating schools;
Provide positive role models to disadvantaged and at-risk youth; and
Introduce and teach basic values and positive qualities.

The mentors spend a minimum of an hour each month engaging the students in a number of key topics from the BELL curriculum including:
Confidence
Respect
Dealing with Anger
Nutrition
Positive Self-image
Introduction to Business
How Business Affects the Community
Responsibility
Black History Jeopardy
Self- Discipline
Courage
Discover the Genius in You
Keys to Good Behavior
Reach
Over the last 17 years, the BELL initiative has reached over 3,690 students in six schools in Philadelphia.